Join us as an exhibitor
The Subcontracting Trade Fair is the most important event for the Finnish industry. The Subcontracting Trade Fair, organised since 1988, is sold out year after year.
Satisfied customers year after year
We monitor customer satisfaction continuously. Based on the feedback for the 2019 Subcontracting Trade Fair, 94% of the exhibitors and 98% of the visitors were of the opinion that the trade fair had fulfilled or exceeded their expectations.
The largest and most important professional trade fair event in Finland
One thing that makes the Subcontracting Trade Fair unique is that no other event in Finland brings together such a large variety of industrial companies. It is estimated that as much as 90% of the Finnish industry participates in the Subcontracting Trade Fair.
Topical, high quality programme
The seminars and presentations cover hot topics, industry trends and new standards. Each year, distinguished speakers join the event.
Three days that you cannot miss
Competition is global and becoming increasingly fierce. Companies must constantly develop products, streamline processes and build the competitive advantage that will make them world-class companies.
At the Subcontracting Trade Fair you can see trends, learn from actual example cases, get new ideas for product development and meet potential cooperation partners during three days in four halls filled with 1,000 exhibitors and 17,000 visitors.
Can you afford not to come?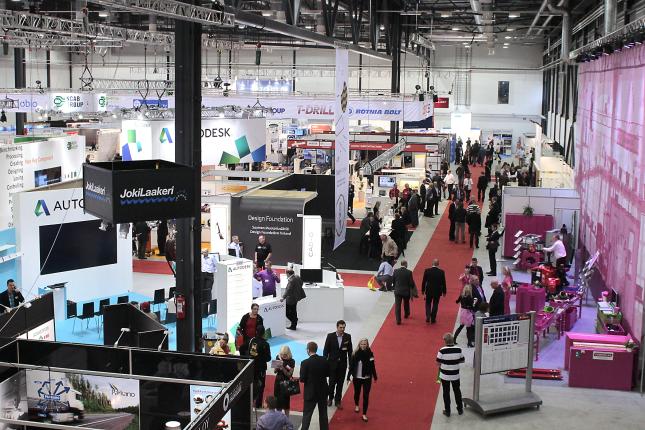 Launch and test novelties
Trade fairs can help you increase sales and promote new products, your product selection and company. Trade fairs are also an ideal place for testing the competitive edge of products, finding new ideas for product development, and assessing demand.
Maintain customer relationships
Personal discussions are an excellent opportunity for maintaining existing customer relationships and mapping out new cooperation partners. The outcome of a well-managed participation in a trade fair is often a long list of leads and requests for quotation.
Strengthen your company's image
Images have a strong effect on purchase decisions. At the trade fair, you can build your company's image in various ways, such as by creating a great stand, or by promoting your expertise via the trade fair programme. Usually, no magic tricks are needed, but friendly and helpful face-to-face presentation of products and services by experts is enough to make your company stand out amongst competition.
Make an impact on the purchasing process
Purchase-related decisions are made by an increasingly large number of people in various organisations. One of the greatest strengths of the Subcontracting Trade Fair is that it provides an opportunity to meet with and make an impact on not only those who make purchase decisions but also those who have an effect on the decisions. These are people that one usually does not meet in sales meetings