Network effectively at Alihankinta Network Corner
News 02.09.2019
Would you like to network at the Subcontracting Trade Fair? Meeting new people is effortless and fun with by using the Brella service at the Alihankinta Network Corner, located in hall E. Network Corner is meant for discussions and brainstorming, you can save the sales pitches for another occasion.
Deeper than social media
Face-to-face interaction and discussion take you to the next level of networking. Network Corner enables you to meet the players important to you in person and get deeper than with LinkedIn and Twitter.
Networking opportunities of the Subcontracting Trade Fair are yet to meet their match. Establishing contacts at the Tampere Subcontracting Trade Fair opens doors to the world, as the key players in the industry both from Finland and around the world are represented at the event.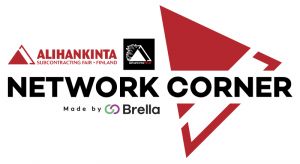 Sign up with Brella today
Alihankinta Network Corner meetings are arranged by using the Brella service, which provides a convenient way for the participants to schedule meetings during the fair. Brella has been used at the Subcontracting Trade Fair during the previous years as well, and has been positively welcomed by both the exhibitors and the trade fair visitors. Now the service used at the fair has been renewed and will be known as Alihankinta Network Corner made by Brella in the future. The Brella code of the event is Alihankinta2020.
Subcontracting Brella will be opened closer to the event!