Alihankinta Network Corner made by Brella
Alihankinta Network Corner Made by Brella
NETWORK EFFICIENTLY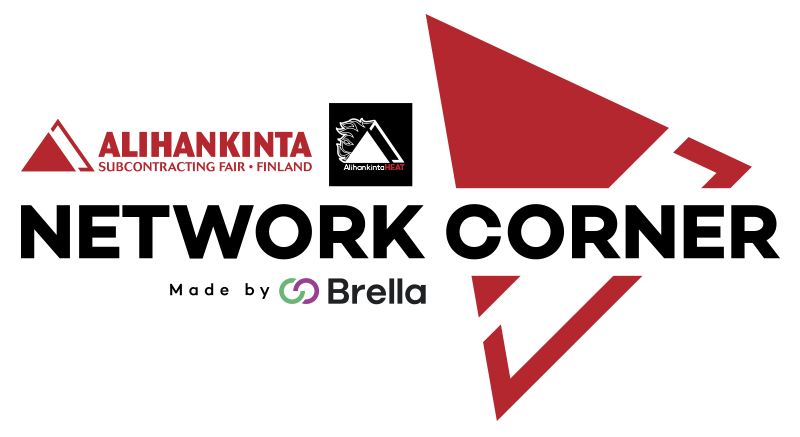 Book the most wanted meetings at the Subcontracting Trade Fair in advance – let Brella help you
The Subcontracting Trade Fair is a forum where the most important companies and experts of the industry meet – not forgetting sales and purchase specialists.
The calendars of the most wanted persons will be booked solid in advance of the trade fair days. Make sure you meet your important contacts personally.
---
Location of Network Corner
---
---
---
Brella helped me find new suppliers at the Subcontracting Trade Fair. I had a clear idea of the type of contacts I was looking for, so I was able to identify the potential meetings based on the company descriptions submitted to the service. The novel networking service for the trade fair left me with a very positive feeling, and I will surely use Brella again in the future. One Brella contact also lead to a new partnership, even though we were unable to agree on a meeting during the actual event.
Arto Määttä, Procurement Manager, Telatek Service Oy
Time is a scarce resource for people these days, so this type of an efficient tool for pre-booking useful meetings and to help schedule the visit to the trade fair is very welcome. Brella has received an excellent reception from both event organisers and their customers. One example of professional events is the Nordic Business Forum, where this service has been found to be good.
Janne Puustinen, Partner, Mainostoimisto MEOM Oy
1. Log into Brella
2. You can use your LinkedIn profile if you have one
3. Describe what you are looking for and what you are offering at the Subcontracting Trade Fair
4. Book meetings with appropriate parties
5. Start networking
---
Brella is a networking tool
Brella will help you find those trade fair visitors who are the most important and interesting persons related to your work.
Do not leave it to chance when it comes to having the most important meeting that could open new doors and provide opportunities for cooperation.
You will find Brella from App Store and from Google Play Store. Use the code Alihankinta2020 to join the event when using app.